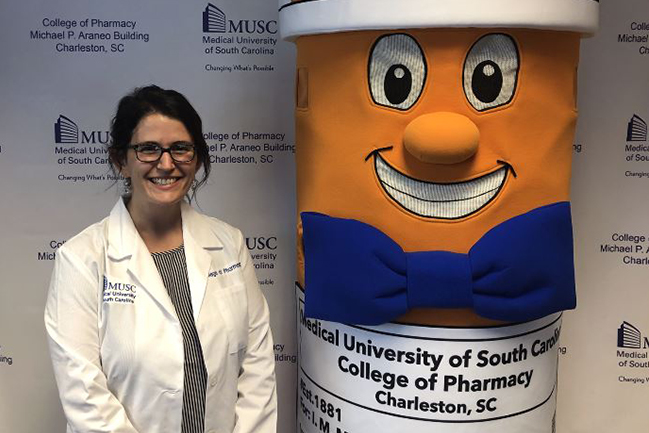 Kristen Bordner's father would be proud.
A door-to-door insurance salesman, he used to let Kristen act as his "secretary" and set up meetings from his home office. She has a strong memory of sitting at the dining room table, playing the role of secretary, and her father telling his 10-year-old girl she would be a good businesswoman someday.
But when she was 13, he was diagnosed with lung cancer. For the next five years, she watched him suffer the pain of battling cancer before he finally succumbed.
"I remember so many moments of just wanting to be able to do something to make him feel better," she said. "As I got older, I became acquainted with the fact that he took several medications to try to help with various symptoms and pain management."
It inspired her dream of being a pharmacist. But she put the dream on hold when her father died, deciding to honor his memory by going to business school and following in his footsteps.
She earned a Bachelor of Science in Business Administration from the College of Charleston and joined Publix Super Markets, where she worked in increasingly important customer service roles for a decade. She tried a stint in insurance, returned to Publix, and realized that working as a businesswoman was not fulfilling for her.
"It was then that I decided I would go back to my original dream of working in pharmacy so that I could help people feel better, just as I had always wanted to do for my father when he was battling cancer and undergoing concurrent radiation and chemotherapy treatments," she said.
She earned an Associate in Science degree from Trident Technical College, transferred into Publix pharmacy in 2018, and decided to go back to school to get her Pharm.D.
A pharmacy degree opens many doors. With her business background and a pharmacy degree, she could open her own community or specialty pharmacy, rise through the ranks at a chain store like Publix, go into industry, join a health-system, or pursue many other options. Her father's vision will still be fulfilled as she applies her leadership and efficiency skills as a businesswoman to building a career in the pharmacy profession. Whatever she does, it will continue to honor her father and those cherished memories of helping his business.
"I am 32 years old and chasing after a dream I had when I was a teenager," said the native of Ladson, South Carolina. "I cannot imagine a better way to serve my friends, family, and community all while honoring my father simultaneously."