Scholarships and Financial Aid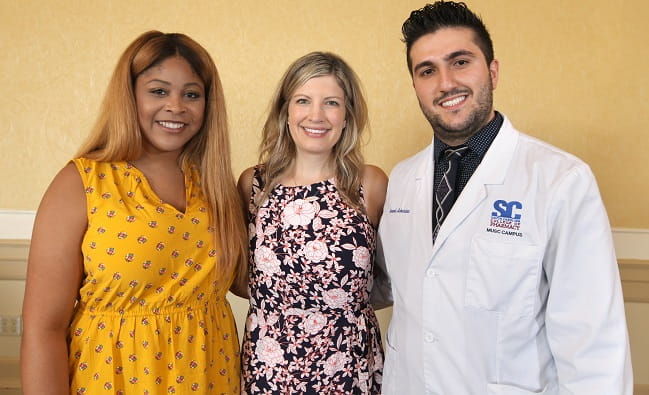 Medical University of South Carolina
College of Pharmacy
Student Scholarship Program
In 2016, under the leadership of President David J. Cole, MD, FACS, the Medical University of South Carolina embarked on its new vision, the Imagine Campaign: MUSC 2020. For Dean Philip Hall and the College of Pharmacy, this means imagining what is possible in pharmacy. This is exactly why the College of Pharmacy is committed to providing cutting-edge education while recruiting faculty, staff and students who revel in innovation.
The MUSC College of Pharmacy Student Scholarship Program is an integral part of this overall vision and mission allowing the College to empower a diverse community of students to become caring, compassionate, ethical, and skilled health care professionals.
Scholarships are essential to compete successfully with other Colleges of Pharmacy in recruiting and maintaining the best and brightest pharmacy students. Scholarships help relieve the financial burden for recipients allowing them to focus on their education in order to change what is possible in pharmacy.
Over the past decade, the MUSC College of Pharmacy Scholarship Program has impacted over 1,000 students distributing nearly $3.2 million in scholarship. In 2018-2019 alone, the College had the privilege of presenting 42 titled scholarships representing 101 individual awards and totaling over $171,000 through private funding.

Dean's Scholar Program
The Dean's Scholar Program is a new, highly-selective scholarship program created to recognize some of the finest MUSC College of Pharmacy applicants. A select number of students are accepted into this prestigious program, which provides tiered-percentage scholarships totaling nearly $1 Million per class over the four year program.

Endowed Scholarship
An endowed scholarship is created within the MUSC Foundation through a gift of at least $50,000. With an endowed fund, only interest is utilized for scholarships; the principal is maintained and grown to perpetuate the gift. An endowed scholarship would payout an annual scholarship award once fully endowed at the $50,000 level. The award will be based on the Foundation's endowment payout at the time. (The current Endowment payout is 4%). The College currently has 26 titled endowed scholarship funds.
Annual Scholarships
Annual scholarships are funded by generous donations made each year to our students.

Pharm.D. Outside Scholarships
Doctor of Pharmacy candidates have the opportunity to apply to a variety of scholarships independent of what is offered through the College of Pharmacy. Here is a list of outside scholarships as a resource for those interested in applying.

Miscellaneous Scholarships
Additional information on South Carolina state scholarships, contracts and diversity programs can be found on the MUSC Office of Enrollment Management.

Financial Aid
The Medical University of South Carolina Office of Enrollment Management oversees the financial aid process for all six colleges, including the College of Pharmacy. Their website answers questions about the Financial Aid Application process and provides valuable information on how to finance your Graduate/Professional School education.
Applying to the MUSC College of Pharmacy Student Scholarship Program
The scholarship application for the MUSC College of Pharmacy Student Scholarship Program will be made available in March each spring and must be submitted online prior to May 15. The applying for scholarships page has additional information on the application process and requirements.