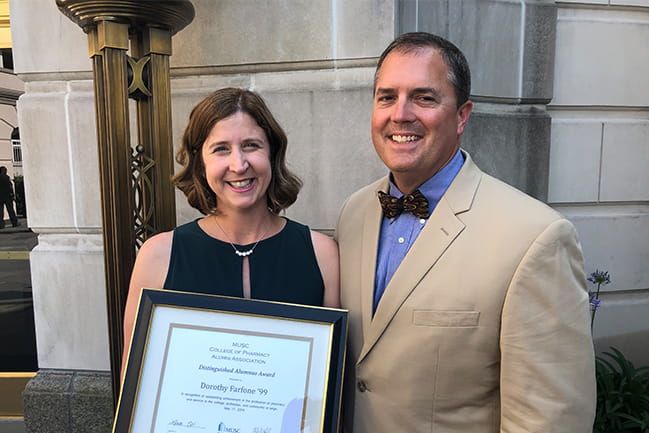 Dottie Farfone delivered an inspiring message to the Class of 2019 at the Medical University of South Carolina (MUSC) College of Pharmacy (COP) Convocation and Hooding Ceremony on May 17 at the Gaillard Municipal Auditorium.
Be receptive to opportunities, be a lifelong learner, keep developing soft skills to reach your patients, and never be complacent.
"I never thought I would own a pharmacy that can cure a patient's hepatitis," she said. "You can't imagine today what will be possible in the future."
For those newly-minted pharmacists dreaming of independent community ownership, she is an encouraging example of how to create a pharmacy that can thrive in a competitive market. Dottie's Pharmacy, which she founded with husband Scott Farfone in 2012, offers traditional pharmacy services, all aspects of compounding, and specialty pharmacy combined with the appeal of a family-owned pharmacy.
She encouraged the Class of 2019 to remember always that, as pharmacists, a) they are the drug information experts; and b) their career opportunities are limitless.
Dottie's Pharmacy, which includes MUSC pharmacy alumni William Wier, Alissa Bradley Anson, and Jennifer Kornblut Kalinsky, recently became one of only six pharmacies in South Carolina to be accredited by the Utilization Review Accreditation Commission. It is the first nationally-accredited specialty pharmacy in Charleston.
Born and raised in the small rural town of McColl, South Carolina, Dottie Farfone went to Marlboro Academy and Converse College before graduating from COP in 1999. She has practiced in community retail pharmacy for 30 years. After starting out in a chain pharmacy, she has spent most of her career working for independent pharmacies.
"Dottie is an astute businesswoman and an accomplished entrepreneur," said Philip D. Hall, dean of the College of Pharmacy. "She has combined the small family feel of her great-great-grandfather's pharmacy with groundbreaking modern elements to create a unique pharmacy. As our 2019 Distinguished Alumnus of the Year, she provides an admirable role model for our students as they begin their careers."