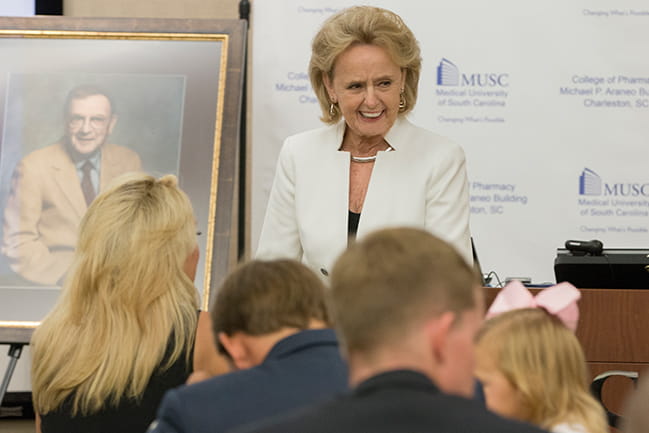 The MUSC College of Pharmacy announced today that Alycia Araneo Craft, the daughter of longtime Charleston pharmacist Michael P. Araneo, has made a substantial donation in current and planned gifts that is the largest in the school's history. The college's previous largest gift was made by her father.
While the terms of the gift are confidential, the aggregate total of the family's giving is such that upon realization of Craft's estate gift, MUSC will rename the College of Pharmacy in recognition of the Araneo-Craft family's generosity. The MUSC Araneo and Craft College of Pharmacy will be only the second named school at MUSC.
Beyond creating a new scholarship, Ms. Craft's gift will establish a new permanent endowment to support the College of Pharmacy's mission and initiatives in perpetuity – driving innovations in pharmacy practice, advancing drug discovery research and providing Pharmacy students with financial assistance and unique learning opportunities.
We are pleased to tell you a little more about this amazing family, whose generosity will deeply impact the College of Pharmacy and the profession of pharmacy in South Carolina as a whole. 
Alycia Araneo Craft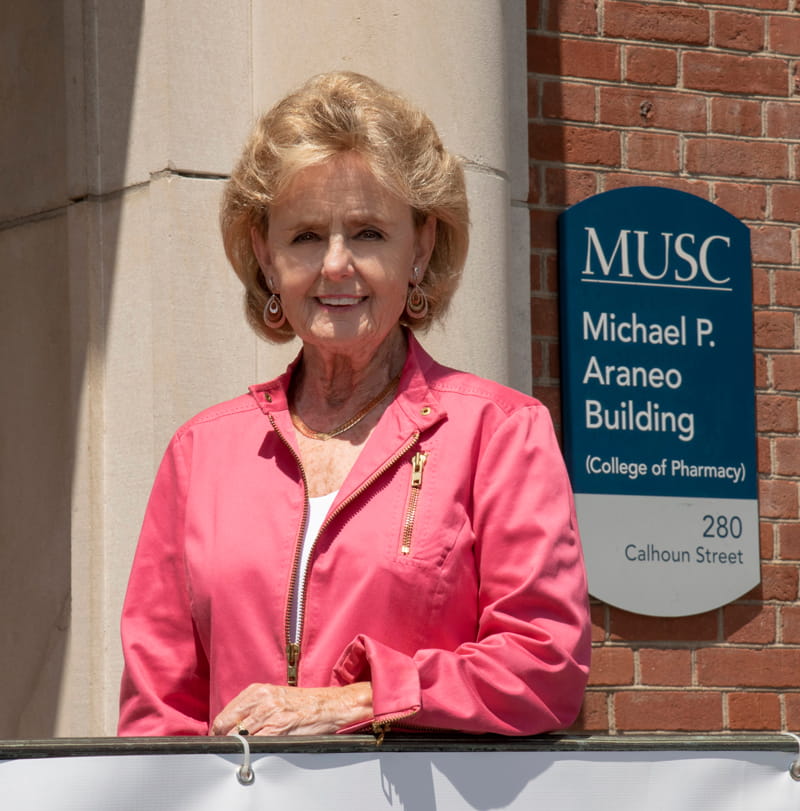 A native of Charleston, S.C., Alycia Araneo Craft graduated from Bishop England High School, attended Coker College for one year, and later earned an associate's degree from a business college in Charleston. In 1965, she joined Pan American World Airways and served the airline as a flight attendant and purser from 1965 until 1991. When PanAm filed for bankruptcy, Delta Air Lines acquired its European routes and she interviewed and was hired by Delta in 1991.
Her life in aviation took her around the world, provided her with independence, and was filled with excitement. During her 36 years of flying, she experienced a hijacking, two genuine bomb threats, and several more incidents and accidents.
When her plane was hijacked, she felt the cold metal of a gun barrel on the back of her neck and heard a voice say "Viva la Cuba!" It was the start of a multi-day ordeal in which her plane was flown to Cuba and the flight crew and passengers forced to disembark at gunpoint. She was taken to a room and interrogated for several hours. Eventually, the plane was allowed to return with all passengers and crew safely aboard. 
On another occasion, they were alerted by the captain that a bomb threat was called in by a terrorist. All passengers and crew immediately disembarked and after eight hours of searching the aircraft, the explosive was located on board. It was not the only time – she underwent two last-minute averted bombings during her career.
These extraordinary events are typical of her extraordinary life. A riptide swept her out to sea on her second honeymoon. As a child her brother was shot and killed in an accident; a second brother was murdered two decades later. But Alycia Craft has weathered every storm and, with a hands-on approach to her investments, been highly successful.
She credits her resilience to her father, Michael, whose love and commitment to pharmacy inspired her transformative gift to the MUSC College of Pharmacy. "Everyone knew him," Alycia Craft said. "He was so smart about most things and so knowledgeable about medications. He used to take care of everybody, even after he retired he was still taking care of everybody."
Michael P. Araneo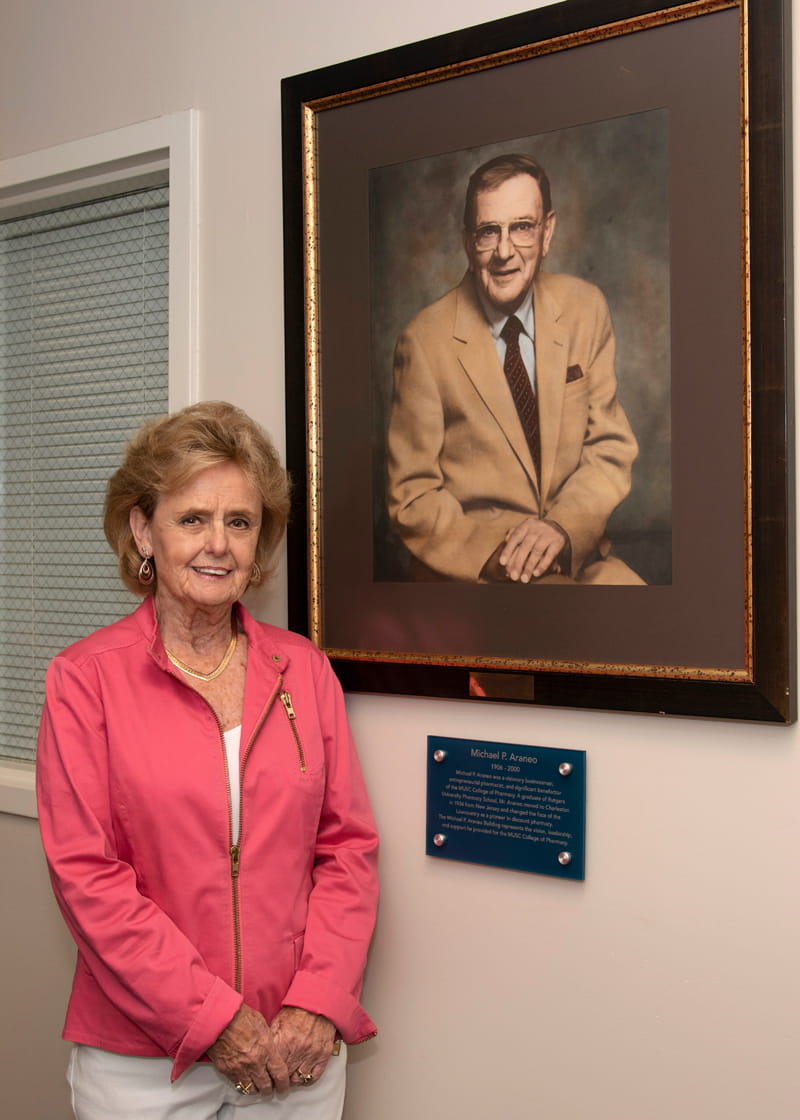 Alycia's father, the late Michael P. Araneo was a visionary businessman, entrepreneurial pharmacist, and longtime supporter of the MUSC College of Pharmacy.
Araneo was a pioneer in discount pharmacy. A New Jersey native, he graduated from the Rutgers University Pharmacy School in 1929 and managed three discount drug stores in Jersey City. He moved to Charleston in 1934 and, by all accounts, changed the face of Lowcountry pharmacy.
Discount pharmacy was a new concept for the area and he opened a series of highly-successful stores. For nearly two decades his store was the leading drug outlet in the city and when he sold his last store in 1955, it was the largest discount store in the Southeast.
A community leader who was committed to his patients, Araneo had an old Woodie Wagon delivery truck and he would deliver prescriptions to people's homes if they needed, even if they couldn't pay from time to time. He was also an avid golfer; he was the chairman of the Azalea Tournament at the Country Club of Charleston and used to play regularly with club pro Henry Picard, a two-time PGA major champion (Masters in 1938 and the PGA Championship in 1939). He was a local real estate magnate, building five duplexes and a number of homes, a boating enthusiast, a pilot, and a patriot. Since he was too old to fight in World War II, he got his pilot's license and taught flying to cadets in his spare time. 
In 1999 Araneo made what was, at the time, the largest gift ever to the Medical University to support MUSC's Pharmaceutical Development Center, a cutting-edge facility whose dual mission incorporated educational and research opportunities.
At the December, 2018 meeting of the MUSC Board of Trustees, the board approved the college's request to name the current College of Pharmacy building at 280 Calhoun Street "The Michael P. Araneo Building" in honor of this good friend and benefactor of the college. The dedication of the building was celebrated in a ceremony August 23 with the extended Araneo family.
When the college relocates to its new facility, the Araneo name will go with it and occupy a prominent interior space within the new structure. Groundbreaking for the new facility begins in the spring.
A widower of Helene Fitzpatrick Araneo, Michael Araneo passed away in 2000 and was survived by two daughters, Helene Ackerman and Alycia A. Craft; four grandchildren; and nine great-grandchildren.
Robert D. "Bob" Craft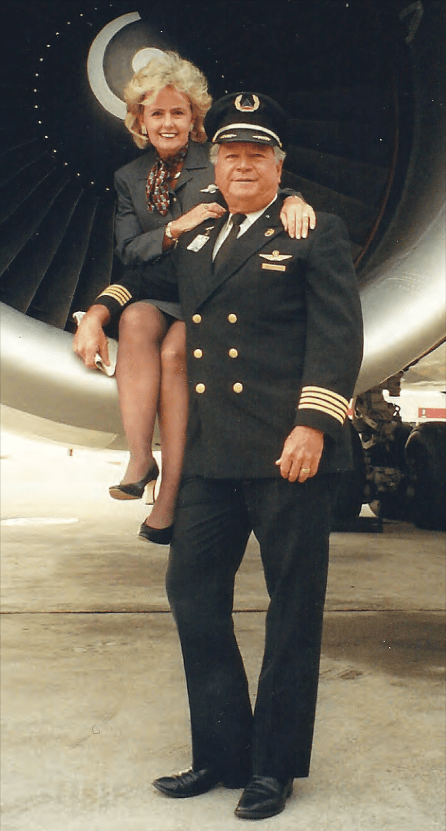 Alycia's late husband, Bob Craft, was a war hero with two tours in Vietnam piloting 1,172 missions in a C 130. He earned a Distinguished Flying Cross, six Air Medals (one of which he earned the same day as the Distinguished Flying Cross), the Air Force Commendation Medal, Presidential Unit Citation, Outstanding Air Award and National Defense Ribbon. 
A 30-year career pilot for Delta Air Lines, he was the captain of Delta Flight 109 and in the air during the terrorist attack on September 11, 2001. He was flying a Boeing B-767ER from Madrid to Atlanta, which meant it was filled with fuel like the hijacked planes. Without knowing if his plane also housed terrorists, he and his fellow crew had the attendants turn off the cabin screen projecting the plane's position and started a gradual descent. They landed on a World War II runway in the Azores, 1,000 miles off the coast of Portugal, to ensure the safety of passengers and crew.
He was the first United States commercial airline pilot allowed back in the air. On September 12, he was given clearance to fly back to Madrid; on the way, he handed each passenger a teletype dispatch he'd been sent that read "You are the only U.S. commercial airliner airborne. Pretty eerie." Three days later, he and his crew flew everyone to the U.S. as scheduled. Subsequently, he received some 45 letters praising his poise and leadership.
A decade earlier, with the Berlin Wall starting to come down, the pilot bought an airline ticket from Frankfurt to Berlin so he could participate in the destruction of the Berlin Wall. He grabbed a crow bar and started gouging chunks out of the wall to pass out to people in the crowd. A Reuters photographer captured a picture of him handing American cigarettes through a hole in the wall to an East Berlin military officer. 
Craft comes from a family with generations of service in the military dating back to the Revolutionary War. A native of Louisville, Ky., he attended Winter Park High School in Florida before moving to Okinawa, where he graduated from Kubasaki High School in Okinawa, Japan in 1961. In 1965, he graduated from the University of Florida and joined the U.S. Air Force, serving two tours in Vietnam from 1967-1969 and then continuing as a pilot instructor from 1969 to 1973.
In 1977, he and Alycia Craft married at the Ernest Hemingway House in Key West. They spent years building a dream retirement home on a 150-acre cattle farm in Fayetteville, Ga., but after retirement in 2003, they decided to become residents of Longboat Key, Fla. They built a new home there in 2004. In Longboat, Bob Craft involved himself in community affairs and volunteered at the VA, helping other veterans.  Craft died in 2013, survived by his wife of 35 years, Alycia; sister, Barbara Jarvis; brother, John Craft; and two nieces and two nephews.