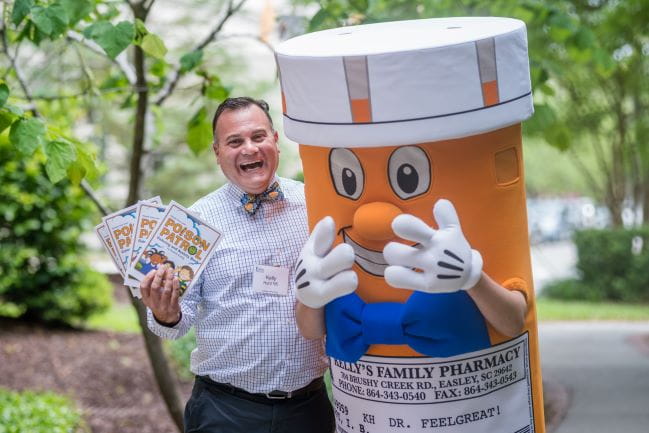 Kelly Hunt '95 is an entrepreneur who built a flourishing pharmacy business that grew into multiple stores before he and wife Kandi Hunt '95 decided to sell the business in 2019.  
He rose through the ranks at Walmart and became a division supervisor at Publix, but Hunt always had a passion for independent pharmacy. His first store was Nature's Own Pharmacy in Powdersville, South Carolina, which he started only three years after graduation in 1998.
"It was born out of my passion and love for natural medications, supplements, and compounding," he said. "Kandi and I owned and operated it until 2002 and it was sold to a multi-store owner out of Clemson, South Carolina." 
In 2008, he founded Kelly's Family Pharmacy in Easley, South Carolina. After going 10 months without a paycheck to get the pharmacy on its feet, he was able to translate his business acumen and considerable people skills into an award-winning pharmacy that was voted best pharmacy in Pickens County seven times between 2009 and 2019. In 2011, he opened FirstChoice Pharmacy in Greenville, South Carolina. A few years later, he consulted for and created a compounding lab for eXigo Pharmaceuticals.
His last expansion came with a new FirstChoice Pharmacy Duncan location in 2018, which featured local products and a "Lifestyle Enhancement Center." This innovative investment was a large training room complete with a Roku-enabled TV that allows for pharmacists to teach classes on diabetes and smoking cessation. His pharmacies continue to be successful for the people who bought them.
Hunt serves as a member of the MUSC College of Pharmacy Dean's Advisory Council and has been active with students, even "adopting" the Class of 2018 after serving as its White Coat speaker. When he decided to sell Kelly's Family Pharmacy, he gifted its pharmacy mascot – Phil the Pill – to the MUSC College of Pharmacy, which has warmly embraced it.
Kelly and Kandi Hunt live in Easley, South Carolina with their three children.